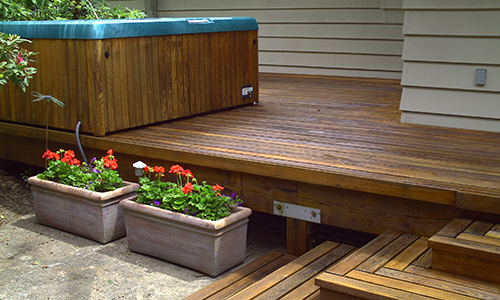 Putting a fresh coat of paint on your home's exterior or a stain on your deck involves more than just a paint can and a brush—there's also important prep work to be considered. C B Paint Co. comes equipped to do the best job possible, which means addressing these prep items thoroughly and completely. If your home needs power washing or gutter cleaning to round out its exterior revitalization, look no further than our team to deliver these essentials!
When it comes to exterior surfaces, a significant amount of prep work may be needed to ensure the surface is clean and ready to accept a new coat of paint. It's important to trust only the experience of a trained power washer in Aloha, OR for this prep work.
C B Paint Co. uses only appropriate pressure settings and is careful to use only recognized techniques to power wash your home's siding or decking. We'll strip away grime and filth to leave your exterior surfaces ready for painting. And, we promise our focus on prep will result in a paint job that absolutely shines.
Gutter Cleaning
Our commitment to homeowners goes even beyond just painting their homes! While we're up on a ladder, we can also perform any necessary gutter cleaning in Aloha, OR. Clean gutters will protect your roof and make sure your home has proper drainage. Instead of having to worry about dragging out the ladder and putting yourself at risk, we'll do the job for you! And, you can count on the same thorough attention to detail that we put into our painting services.
If your home's exterior needs a little extra touch to make it stand out, count on C B Paint Co. to deliver it. Contact us today at 503-519-9237 to inquire about our power washing or gutter cleaning services and we'll be happy to discuss them with you further.